Every year, the Go The Distance For Autism bike-a-thon takes place at Bergen Community College in Paramus to raise awareness for Autism Spectrum Disorder (ASD). And the
World Mission Society Church of God in Ridgewood
is among its annual supporters. Not only do volunteers always cheer on participants but they also help ensure the event runs smoothly.
According to Autism Speaks, the latest surveys suggest that 1 in 45 children are diagnosed with ASD. This condition disturbs the interpersonal and cognitive development of children in the first three years of infancy. Researchers have yet to find an absolute cure. There are only supplementary treatments such as therapy, medication and special counseling. The effects of ASD are long-term, thus, causing many difficulties in the lives of too many children. Parents, also, face a tough time raising their children as they deal with the symptoms.
There are still many people who are not aware of ASD. The event participants always serve as a visible reminder to raise awareness about the disorder.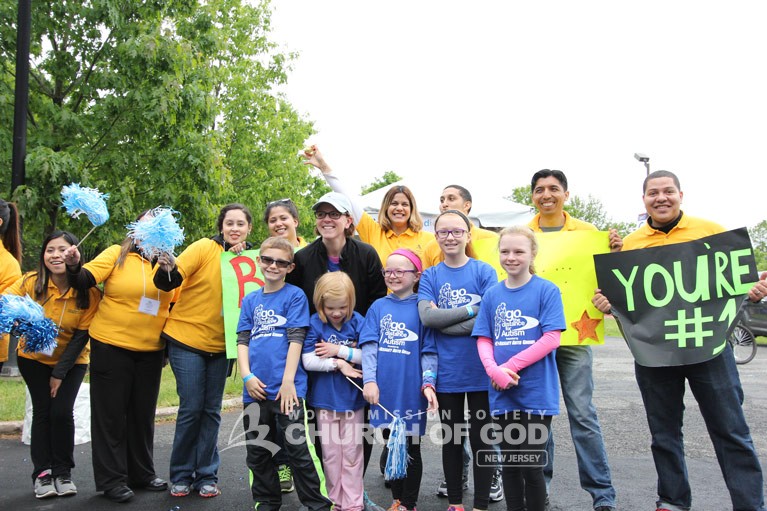 The 62.5-mile-long bicycle race requires a great deal of preparation and meticulous effort to make the event enjoyable. About 100 Church of God volunteers actively helped the Go The Distance For Autism 2016 event organizers to ensure the multiple facets of the event were covered.
From early in the morning until the end of the event, Church volunteers helped the different vendors set up. Volunteers helped with registering participants, distributing t-shirts and wristbands, and cheering on participants. They cleared pathways, greeted guests and guided participants. Sometimes, due to low stamina, injury or bicycle malfunction, participants cannot continue the race. Volunteers drove a van along the route in case riders needed a lift for any of these reasons. Other teams manned rest stops along the course where riders could stop for refreshments or take a break.
Church of God volunteers were ecstatic to participate in Go The Distance For Autism bike-a-thon. They managed their stations with bright smiles to make the event pleasurable for all families and guests. Even more, as they enthusiastically cheered on the participants, volunteers hope to have encouraged bicyclists throughout the race.
The goal of the event was to raise consciousness about ASD. Church of God members hope that by supporting the Go the Distance for Autism Speaks event, more people will realize the importance of supporting families with children who have ASD.