On Sunday, November 8, about 30 volunteers from ASEZ partnered with the Borough of Elmwood Park for a second leaf cleanup. Students cleaned up leaves from around their neighbors' homes. In addition, they worked with Councilwoman Lorraine Pellegrine to make the event a success.
Student Volunteers Help Their Neighbors Clean Their Yards
Some older adults found it difficult to be in isolation during the pandemic. They had to be away from their families and normal activities for an extended period of time. So, ASEZ students used this as an opportunity to help those in need. Volunteers picked up their rakes and cheerfully cleared their neighbors' lawns and driveways.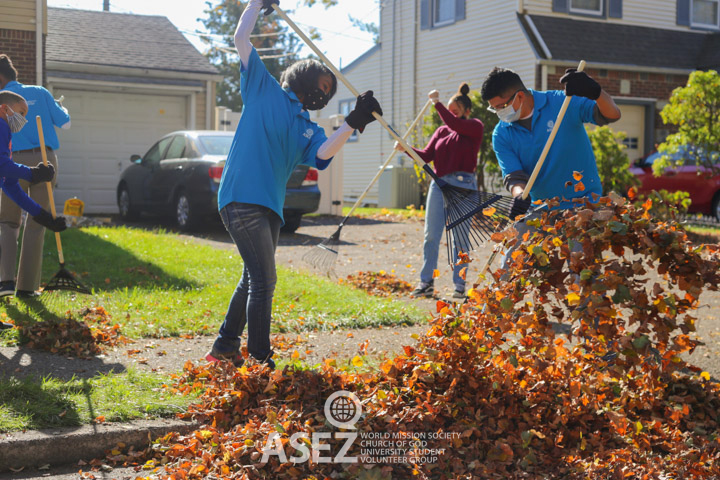 Elmwood Park Councilwoman Lorraine Pellegrine said, "I love ASEZ. You always come through for us every year and we appreciate you so much, thank you. We're so happy to have all of you. It's a beautiful, beautiful day. God blessed us. Even through the pandemic we can still get things done, a little differently but we still get it done. I think the reason we take so many pictures and we advertise this so much, is to show that a few people really can make a difference. I think when the other youth sees pictures of all of you helping and making a difference, they will be encouraged to do that."

"I would not have been able to do it on my own. I think the community needs to come back to being a community and come together," said Anna, an Elmwood Park resident. "It starts with the young people, especially now-a-days in this climate. We need to do it together. I am very grateful you [ASEZ] came out today to clean. I think it's outstanding you're out there trying to do your best to help people in the community. It's heartfelt and I can't express how thankful I am that you came out. Thank you very, very much."

Elmwood Park Cleanup on Market Street
In February of 2020, ASEZ students held a cleanup in the same town of Elmwood Park on Market Street. At that time, volunteers cleaned up piles of leaves for older adults. Students from Passaic County Community College, Bergen Community College, Rutgers University, Montclair State University and Farleigh Dickinson University all joined. Students collected 84 bags of litter — totaling 2,260 pounds of trash, plastic waste and old tires.

In conclusion, ASEZ will continue to strive to help their neighbors in need. The pandemic has displayed a number of hardships for people around the world. However, student volunteers continue to do their part to make a positive impact.

Check out more events hosted by volunteers from throughout New Jersey!